Call for applications dirigido a galerías de arte, contiene la información completa sobre la edición séptima de Swap, programada del 2 al 5 de octubre de 2014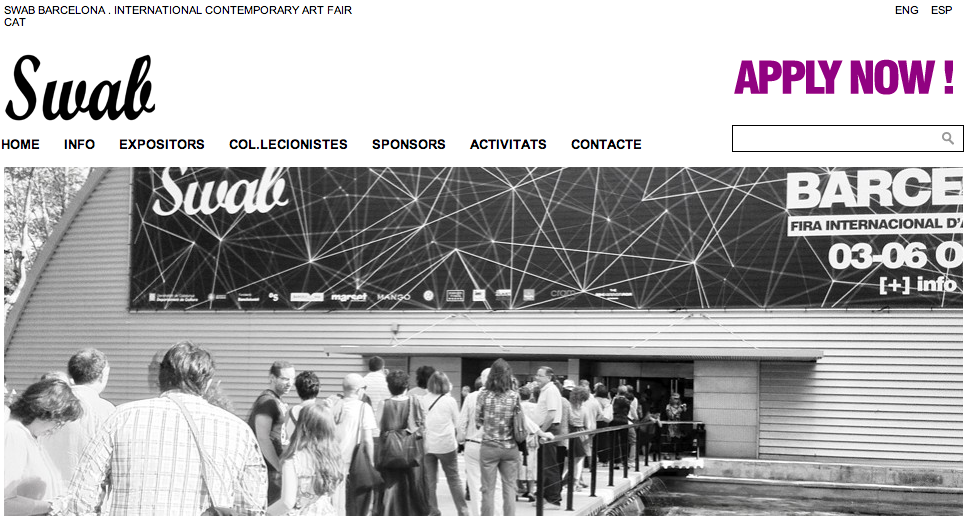 Swap ha emitido una convocatoria, dirigida a galerías emergentes y con carácter internacional, que simultáneamente resulta muy descriptiva de las previsiones de la feria barcelonesa para 2014. La séptima edición regresa al "Pabellón de Italia", en Montjuïc. Swap es una iniciativa dirigida por el arquitecto y coleccionista de arte Joaquín Díez-Cascón. Save the date!
Ref: (decripción procedente de www.diezcascon.net)
SWAB Barcelona fundada en 2006 surge como una iniciativa de Espacio de Arte Contemporáneo Diezy7, Colección privada de Barcelona, desde sus inicios contó con el apoyo de importantes Galerías nacionales e internacionales y con el respaldo del Ajuntament de Barcelona y la Generalitat de Catalunya.
La última edición, celebrada del 3 al 6 de octubre de 2013, cerró sus puertas tras acoger durante 4 días a 52 galerías de 18 países y unos 15.000 visitantes. A pesar del cambio de fechas, de mayo a octubre, la sexta edición de la Feria se ha convertido en la edición más exitosa, tanto en cuanto a la acogida del público, tanto local como internacional , como en cuanto a los resultados obtenidos por las galerías, alrededor de un 78% de las cuales ha vendido durante los días de la Feria. Los Premios de Swab se ampliaron con la incorporación del Premio Idea Art de Marset, y en esta ocasión todos contaron con jurados formados por personalidades nacionales e internacionales del mundo del arte.
[Nota oficial de la convocatoria]
Swab Barcelona
2–5 October 2014
Italian Pavilion (Fira Barcelona)
CALL FOR APPLICATIONS
Swab Barcelona returns to its usual location, the Italian Pavilion in Fira Barcelona, for its seventh editionthat will be held from 2 to 5 October. Swab will present 60 international galleries that represent the best contemporary work from emerging artists.

The online application for galleries willing to participate is now opened. For information of the Galleries Programmes and to download the Information Pack and Applications, please follow this link.
NEW COLLABORATIONS
Swab Solo
With the aim of introducing in Swab Barcelona a section of curated galleries, we present Swab Solo under the direction of Direlia Lazo and the collaboration of Carolina Ariza and Albertine de Galbert that will make a selection of renowned emergent art galleries, focussing on "the Latin American."

Nuevas Posiciones
A selection of 8 Spanish art galleries that will present Contemporary Drawing artist works. This programme is both by invitation and application, and it is curated by Mónica Álvarez Careaga and Óscar Alonso Molina.

Swab Thinks: Ideas, Wo
rds, Networks
Organized by the Independent Studies Programme (PEI) of the MACBA directed by Beatriz Preciado, it will present during 3 and 4 October a series of lectures, debates and discussions that will bring into dialogue artists, cura tors, collectors and cultural critics to think about the changes in the contemporary world and the place that the artist practice occupies. Swab Thinks will be held in the Italian Pavilion.

COLLECTORS PROGRAMME
A series of exclusive activities organized for invited collectors who have the opportunity to visit some of the private collections of the city of Barcelona, as well as exhibitions of museums and foundations. We already have the support of the Fundació Joan Miró that will host a breakfast on October 3 for gallery owners and collectors of Swab Barcelona.

SWAB AWARDS
Banco Sabadell Foundation Best Gallery Award: Consisting on the election of the Best Gallery at Swab Barcelona, and the acquisition by Banc Sabadell Foundation of an artwork from the winning gallery for its collection.
MANGO International Young Artist Award: Through a specialized jury, MANGO will award and purchase an artwork of the best artist in Swab Barcelona.
Volkswagen Photography Award: Acquisition of one photo work from all the photography projects presented at Swab by the galleries participating. The photo will be selected by a specialized jury in photography and will be ceded to the MACBA Foundation.
Idea Art by Marset: It arises by the desire of Marset to initiate an emerging contemporary art collection with the acquisition of a work of conceptual art in Swab Barcelona.
Collection Diezy7 Drawing Award: Created in 2008, consisting on the acquisition of a drawing artwork for the Collection Diezy7.

NEW AWARDS
DKV Seguros Spanish Artist Award: Acquisition by DKV Seguros of a work of a Spanish artist participating in Swab Barcelona 2014 for its collection of contemporary art.
Fundació Lluis Coromina Best Catalan artist Award: with the support of bonart cultural. Acquisition of one or more artworks of a Catalan artist participating in Swab Barcelona.

ACQUISITION PROGRAMME
In 2014, several Companies and Foundations have confirmed their participation, consisting on the commitment of buying artworks for their collections from the galleries participating in the Fair.

Visioni Future from Potenza is one of the Institutions that has already confirmed its commitment for this year's edition of Swab Barcelona.

SWAB OFF
Swab continues with its programme of artistic interventions in public spaces and cultural institutions of the city of Barcelona, with Swab Stairs and Swab Performance, and Do you know what the local art scene looks like?. For more information please follow the link.

SWABBER PROGRAMME
Find out how to become a Swabber and receive a silk-screen print reproduction with a numbered edition of 300 copies of the winning artwork of the Diezy7 Collection Drawing Award, a VIP pass for two, an official catalog of the 2014 edition and an exclusive bag of Swab Barcelona designed by Factoria Rent Me. More information through this link.

Swab Barcelona has the support of the ICEC (Catalan Institute of Cultural Industries), Departament de Cultura de la Generalitat de Catalunya, and ICUB (Institute of Culture of the City Council in Barcelona).

Follow us on Facebook and Twitter!
Agentes: Joaquín Díez-Cascón