Eme3 presenta un nuevo proyecto en colaboración: The Architecture Gallery, una galería solidaria e itinerante que representa arquitectos, interioristas y artistas de todo el mundo.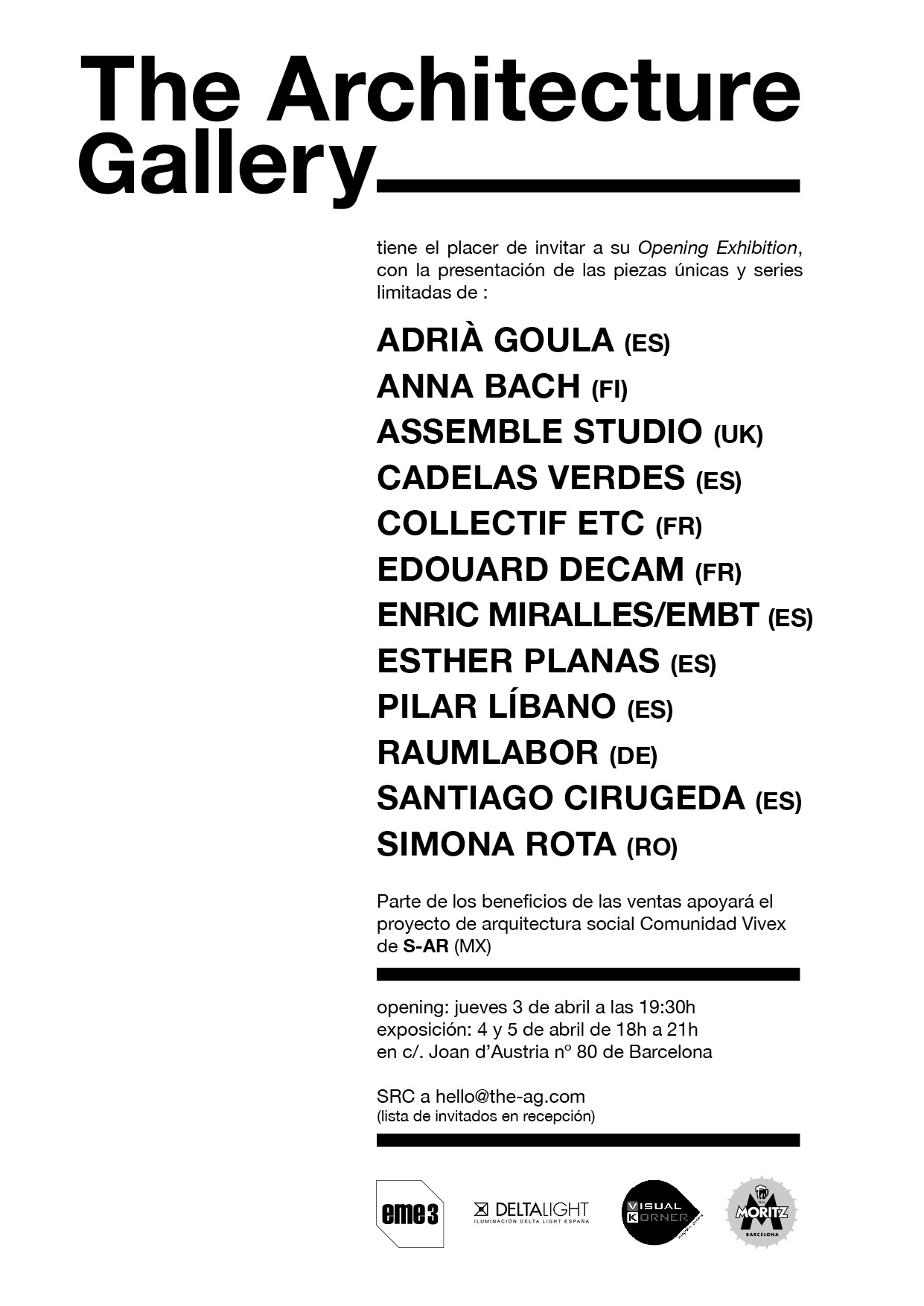 Eme3 is pleased to present a new project in collaboration, The Architecture Gallery, that will be launched on Thursday 3rd of April from 19h30 in Barcelona, a concept of gallery dedicated to art works of architects and artists working around architecture.
Its uniqueness resides in being a solidary gallery: 20 % of the profits from each sale is allocated to projects of social architecture.
His other uniqueness lies in being an itinerant gallery, traveling to different cities to present the artworks and the social projects.
The gallery represents architects, interior designers and artists from different nationalities, who create pieces in formats ranging from photography, illustration and painting to furniture design through volumetric works.
The gallery offers original and limited series, published sometimes by itself.
In this first collective presentation, 12 artists, both national and international, are presenting their work: Enric Miralles / EMBT (Barcelona), Raumlabor (Berlin) , Santiago Cirugeda (Sevilla), Assemble Studio (London), Collectif etc (Marseille ), Simona Rota (Madrid), Adrià Goula (Barcelona), Pilar Líbano (Barcelona), Esther Planas (London), Anna Bach (Barcelona), Cadelasverdes (A Coruña) and Edouard Decam (Barcelona – Bordeaux ).
This time, the sales will support the Community Vivex project, a Civil Partnership Initiative by S -AR ( a collaborative architecture studio based in Monterrey, Mexico) which aims is to make possible the access to architecture for low-income families based in a collaborative design process, planning and social work. Another purpose of the organization is to provide basic infrastructure to those Institutions that offer social support to poor or vulnerable communities.
Opening : thursday 3 of april at 19h30
Exhibition : 4 and 5 of april from 18h to 21h
At calle Joan D'Austria no 80, Barcelona, Spain
rsvp at hello@the-ag.com
(limited entries, only with guest list)
Agentes: Benedetta Tagliabue/EMBT
Agentes: Raumlabor
Agentes: Santiago Cirugeda
Agentes: Assemble Studio
Agentes: Collectif Etc
Agentes: Simona Rota
Agentes: Adrià Goula
Agentes: Pilar Líbano
Agentes: Esther Planas
Agentes: Anna Bach
Agentes: Cadelasverdes
Agentes: Edouard Decam